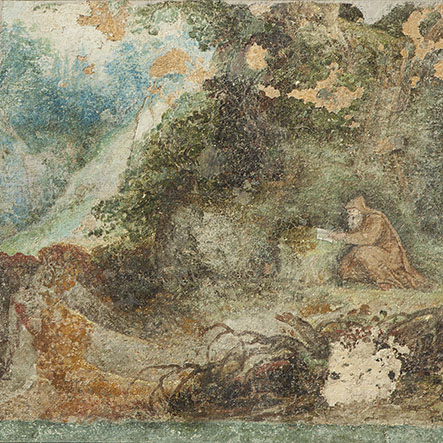 IRPA study – wall frescoes

A remarkable series of mural paintings exhibited in the Erasmus House Museum was the subject of an in-depth study by IRPA
(Belgium's Royal Institute of Artistic Heritage)
These recently restored frescoes were discovered when work was done on the house in 1931.
IRPA conducted an iconographic study on the one hand and a laboratory study on the other hand, in particular the non-invasive MA XRF (macro X-ray fluorescence) scanning of a fragment entitled "Landscape with house on a rocky outcropping", examination under an optical microscope and a scanning electron microscope (SEM).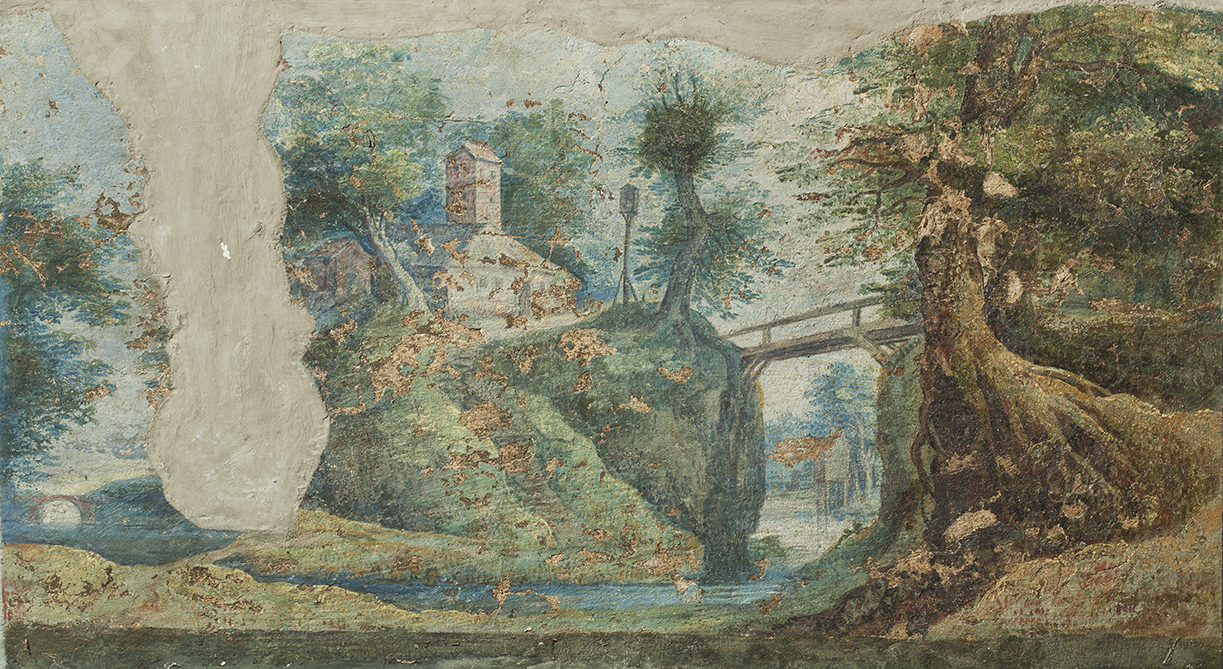 The iconographic study
This study revealed figures dressed in 16th and 17th century garb but also mythological characters. Of the latter the investigators were able to identify depictions of Perseus and Andromeda inspired by Joos de Momper (1564-1635) and associated with grotesques (decorations that cover an entire wall) that bring to mind a 1584 engraving by Abraham de Bruyn. The "low perspective" landscape style refers to the work of Frans de Momper (1603-1660).
The laboratory analysis
This study was able to identify nine layers of painting belonging to three phases. The first two phases consist of self-coloured layers and the third phase consists of the renderings of all the figurative subjects. The three phases were painted al secco (pigments not mixed with the coating) and the binder was definitely flax oil. The first phase may date back to the year the house was built (1460). The third phase consists of figurative paintings on a lead white undercoat. This alla prima oil painting – direct painting in which the final appearance is obtained immediately through the application of one layer of paint – was done in two steps: first the landscapes, and then the figures and figurative details, ending with the application of light highlights with a slight impasto and a less dilute paint.
The presence of azurite, lead tin yellow, and smalt certifies that the frescoes' being dated to before 1800. The paintings are overlaid with a transparent coat – a glaze or later addition – that is not present everywhere. All the frescoes appear to have been covered by a white coating.
The frescoes show many signs of restoration and spots where they were touched up with recent pigments could be detected (visible under UV light).
All of these findings lead the experts to date these figurative paintings back to the late 16th century or first half of the 17th century.